Encore Las Vegas Table Prices
Spread across the sprawling area of around 50,000 square feet, the lavish Encore Beach Club is a high-end clubbing destination in Las Vegas. The club is also referred to as the "happiest place on the planet" by some of the frequent club-goers. The massive area of the beach club in Las Vegas is known to feature exclusive cabanas, private bungalows, loungers, daybeds, and so more for the ultimate entertainment of the guests. Moreover, the lavish club area also features the exclusive pool area for ensuring great clubbing fun to the club-goers. The guests from different corners of the world also get impressed by the special Encore Beach Club Las Vegas table prices and service.
What are the table prices for VIP areas?
It is important to note that the table prices at the Encore Beach Club in Las Vegas are not too cheap. The table prices for the VIP areas in the club would vary depending on the given night and talent spinning in the club. The guests can look forward to paying around $1000 at the minimum for the VIP tables in the club.
How much is the minimum spend at Encore Beach Club, Las Vegas?
Depending on factors like the given night, talent spinning, availability, location of the table, and the number of guests in the club, the minimum spends might vary. You can consider spending anywhere between $500 to $1000 as the minimum spends for the exclusive table services here. As the club does not guarantee table bookings at all times, it is recommended to book the same in advance.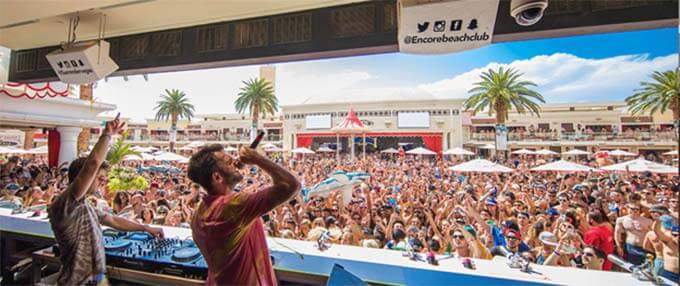 How can I book a table at Encore Beach Club, Las Vegas?
You can fill out the online booking form below or contact us via WhatsApp right away! We are always willing to help you out.
Other Clubs You May Like
Best party hotspots in las-vegas