LAVO Casino Las Vegas Drinks Menu Prices
The LAVO Italian Restaurant & Lounge is regarded as one of the most happening clubbing destinations in Las Vegas. Created by the famous Asian Bistro of Tao. The LAVO nightclub is located at the Palazzo in Las Vegas and is a celebrity hotspot in the entire city. Several high-end, famous celebrities tend to frequent the LAVO nightclub owing to its rich clubbing environment throughout. The nightclub is quite famous for its exclusive cocktail parties and events that take the guests from all over by surprise. As such, you can expect being treated with some of the finest drinks and cocktails from all around the world. The nightclub is also renowned for its top-class décor and plush furnishings all around –gaining the attention of guests from all over.
How much is the drink services minimum spends at LAVO, Las Vegas?
When you are at the high-end LAVO Casino nightclub in Las Vegas, you can expect being received with world-class hospitality and its amazing drink culture. The minimum spends for the drink services at the plush nightclub in Las Vegas is expected to start at around $1000. However, the prices tend to vary on various factors including the number of guests, talent spinning, availability, and the given night or event in the club.
How much is the drink price at LAVO, Las Vegas?
As far as the drink prices at the high-end LAVO nightclub in Las Vegas are concerned, you can expect shelling out around $500 to $675 for the typical alcohol bottles. Vodka starts at around $1500 per bottle and champagne can cost you around $1000 to $1500 per bottle. Expect the drink prices to vary on certain nights.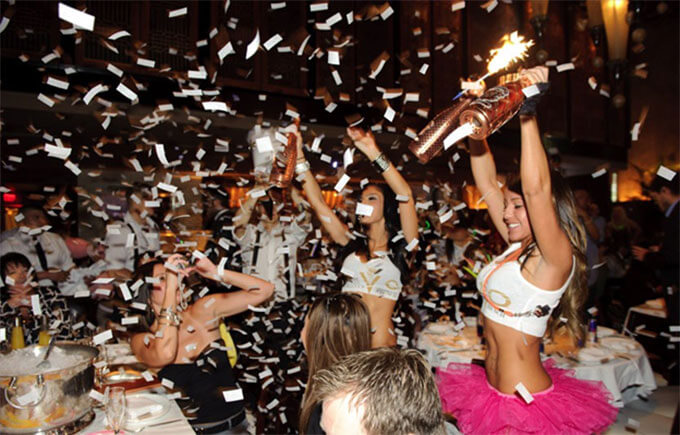 How Can I book bottle services at LAVO, Las Vegas?
Fill out the online form or contact us through WhatsApp!
Drinks Menu

Other Clubs You May Like
Best party hotspots in las-vegas