Nikki Beach Miami Bottle Service
The Nikki Beach club in Miami is one of the most prime destinations for enjoying both daytime as well as nighttime clubbing feel in the beach town. Located just on the beach at South Beach, Miami, the Nikki Beach is a must-visit clubbing destination in Miami. With sand under your feet, the widespread palm trees, torches, and open sky over your head –you can enjoy a divine clubbing experience at this beach club with your friends. On Sunday afternoons, you can have a chilling clubbing feel here as you get to explore the beachside on your own sipping your favorite drinks or cocktails. However, as the club transforms its environment across the night, you are expected to be dressed to impress to enjoy the nightlife clubbing feel here. Expect high-end, creative drinks & cocktails at this beach club. Below you can find all you need to know about Nikki Beach Miami Bottle Service.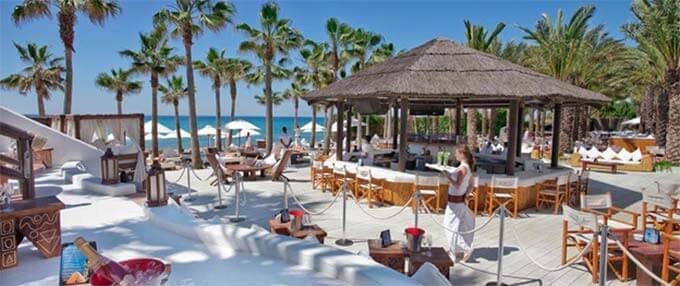 How much is the bottle services minimum spends at Nikki Beach, Miami?
The minimum spends for the bottle services at the Nikki Beach, Miami might start at around $100 for the daybed and might go up to $700 as the minimum rates for the larger VIP tables. However, you must note that the bottle service prices would vary depending on the number of guests and the special event happening at the club.
How much is the drink price at Nikki Beach?
The Nikki Beach in Miami is known for offering a wide range of exotic & inventive drinks and cocktails from the leading brands including Grey Goose, Dom Perignon, Jameson, Patron, and so more. The bottle service at the Nikki Beach club in Miami would include free standard mixers like cranberry juice, orange juice, various sodas, and garnishes.
How Can I book bottle services at Nikki Beach, Miami?
Fill out the online booking form or call us right away!
Other Clubs You May Like
Best party hotspots in miami