Studio 23 Miami Table Prices
Located in the heart of South Beach, the Studio 23 is a famous multi-purpose clubbing venue in Miami. The club is known for offering extensive features and room options and thus, serves as a perfect space for intense clubbing, partying, and hosting high-end events in the beach town. The Studio 23 nightclub is also known for being equipped with cutting-edge sound system along with other top-class features like valet parking, Wi-Fi capabilities, street parking, and so more. At Studio 23 nightclub in Miami, the main aim is to offer an unforgettable clubbing experience in the beach town. The given clubbing space is 100 percent customizable and can be easily customized as per the requirement or preference of the event. For enjoying an eventful clubbing experience when in Miami, make your VIP table bookings in advance at Studio 23 nightclub.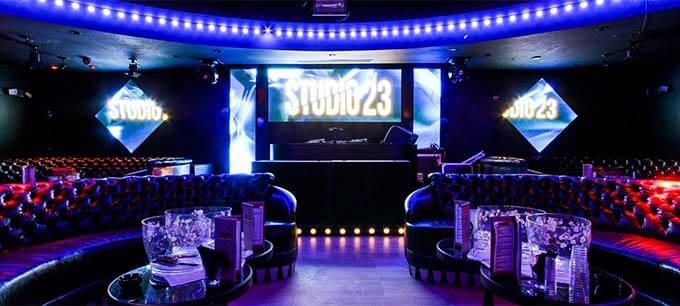 What are the table prices for VIP areas?
The exclusive VIP rooms are the best tables at Studio 23 nightclub in Miami. The table prices at this high-end club would vary at times depending on various factors including the number of guests, DJ, the special night or occasion, availability, and the location of tables in the club. Still, you can expect paying around $1K to $1500 for the tables here.
How much is the minimum spend at Studio 23, Miami?
As far as the minimum spends for the tables at Studio 23 nightclub in Miami are concerned, it could vary depending on the number of guests and availability of tables at the club. The table prices are usually higher on special nights, occasions, or weekends. Still, you can expect shelling out around $1K as the minimum rates for the exclusive tables at Studio 23, Miami.
How can I book a table at Studio 23, Miami?
Fill out the online booking form or give us a call right away to receive your custom quote!
Other Clubs You May Like
Best party hotspots in miami