The Box New York Drinks Menu Prices
When you are looking for a unique clubbing experience, The Box unveils a mixture of the right clubbing environment in the amazing New York nightlife scene. The club stands out from the rest as it hosts the world's best dance performances along with exclusive VIP services to the guests who arrive here from all over. The club is also a clubbing heaven for those who are looking forward to availing the bottle services at the club. Here, the guests get the opportunity to sit back & relax in ultimate luxury as there is the presence of a specialized private booth surrounded by antique decorations and beautiful chandeliers. The club serves to be a multi-purpose venue delivering the best-ever clubbing cum lounging experience to the club-goers.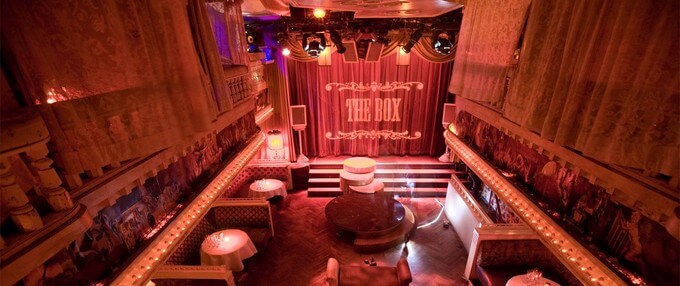 How much is the drink services minimum spends at The Box, New York?
The Box nightclub in New York is known for providing an array of the best-ever drinks and cocktails to its guests. You can consider spending around $500 as the minimum spends for the exclusive bottle services at the nightclub. However, the drinks prices are bound to change on various factors. Some of them are talent spinning, the particular night or event in the club, availability, the total number of guests, and so more.
How much is the drink price at The Box, New York?
Get the most of the amazing bottle services at The Box nightclub in New York by enjoying your favorite drinks here. You can get the typical alcohol bottles for around $500 to $650. The drink prices are also subject to changes on various factors or on certain occasions.
How Can I book bottle services at The Box, New York?
Book the bottle services at The Box nightclub in New York now! Fill out the online form or reach out to us now!
Drinks Menu
Other Clubs You May Like
Best party hotspots in new-york