Café Mambo Ibiza Table Prices
This café is one of the most beautiful sunset cafes in the beach town offering the best views of the spectacular sunsets right from your table in the club. Whether you are looking forward to taking sips from your favorite cocktails or eating from the delicious menu of the club, there is always something mesmerizing about the sunset view offered at the Café Mambo in Ibiza. In addition to the breathtaking sunset views, the Café Mambo club in Ibiza is also known for organizing some of the best DJ nights in the town. Taking up a VIP table at the café can help you enjoy some of the most eventful nights in the city.
If you wish to book for yourself a VIP table at the club, contact us right now!
What are the table prices for VIP areas?
Café Mambo offers three separate options for making your table reservations for enjoying the beautiful sunset. When you opt for the seafront table, you can expect spending around 100€ per person for the table. Similarly, for the regular table at the club located between the seafront & the promenade, the table prices start at 100€ per person. For the exclusive VIP tables located closest to the DJ booth, the table prices start at 150€ per person.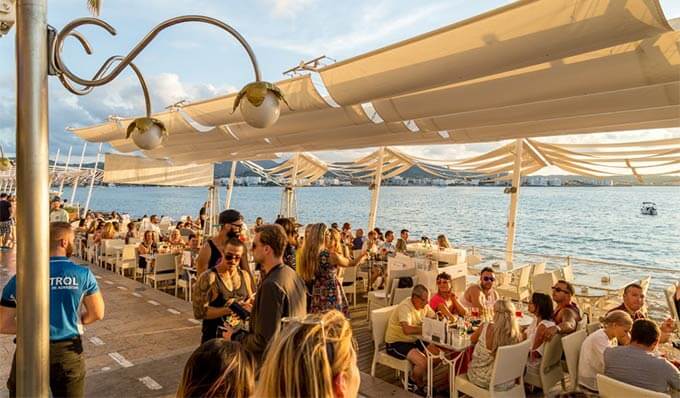 How much is the minimum spend at Café Mambo, Ibiza?
As far as the minimum spend at the Café Mambo is concerned, it will vary depending on the particular date, event type, DJ, availability, and the location of your table. Still, you can expect shelling out around 100€ per person as the minimum spend for your day-out or night-out at this club.
How can I book a table at Café Mambo, Ibiza?
Reach out to us right now for making your VIP table reservations. We are available on call services or you can also fill out the online booking form!
Other Clubs You May Like
Best party hotspots in ibiza