Privilege Ibiza Bottle and Drinks Price Menu
Privilege nightclub in Ibiza is known for being the "biggest nightclub in the world". With its impressive Main Club Room shaped like a massive aircraft hangar –the Privilege nightclub in Ibiza is something you should not miss out when in this beach city. With a sprawling overall capacity of 10,000 people, the nightclub has a majestic aura of its own. It is well-known for its impressive design and spectacular architecture that is hard to find anywhere else in the world. Below you can find all you need to know about Privilege Ibiza Drinks Prices.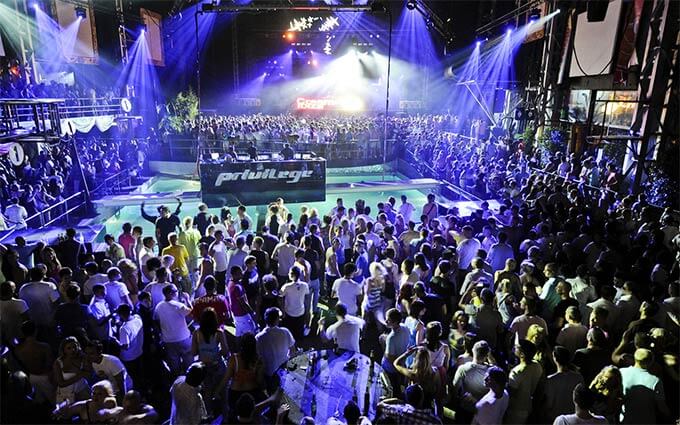 The highly unique Visa Club at Privilege is the glass-encased area known for throwing some of the most happening and rocking parties in the town. If you also wish to be a part of the grandeur offered by this nightclub, do not miss out on making your advance VIP table bookings with us!
How much is the bottle services minimum spends at Privilege?
At the high-end Privilege nightclub in Ibiza, expect paying around 15€ to 20€ per person for drinks & bottle services. The exact price for the minimum spends on bottle services at the nightclub would depend on the date, event type, DJ, availability, and location of your table here.
How much is the drink price at Privilege?
With the entry prices at the Privilege nightclub, Ibiza ranging around 35€ to 50€, the drink price at the club would also depend on the date you are visiting, the event type, availability, and your table location at the venue. Expect shelling out around 12€ for a single shot of Vodka Limon and beer at the nightclub would cost you around 10€ per person.
How Can I book bottle services at Privilege, Ibiza?
For getting maximum benefits of the nightclub at Privilege, Ibiza, make your advance bottle service bookings with us. Reach out to us now at call services or fill out the respective booking form online!
Other Clubs You May Like
Best party hotspots in ibiza